Would you love to learn a new talent?
Would you enjoy a fun new hobby?
You might even make some side money. Heck, I have done this full-time for nearly 20 years.
Over those past almost 20 years I have taught hundreds of people how to chainsaw carve.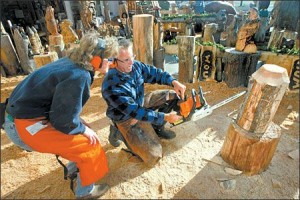 If you have been meaning to do this I suggest you enter now. A sweepstakes with $500 bucks off a 3 day chainsaw carving class is something I have never offered before.
Enter to Win 2 $500 gift certificates towards the 3 day class! Bring a friend and learn how to chainsaw carve. Bring your wife. Bring your best friend. Not only do you get $500 off the standard price but so does your guest! The class begins with chainsaw safety and moves into hands-on chainsaw carving. This is the lower cost way to Rev Up Your Life with Chainsaw Carving!